River Report 12/15/21
We are settling into our cold weather fishing patterns here in western Mass and things have been pretty good.
Trout fishing up and down the Deerfield has been fairly reliable. Flows have generally been on the higher side so boat anglers have been doing well. The lower river from Bardwells Ferry down has been giving up lots of decent fish, mostly on nymphs. The upper river is also fishing well. This time of year, junk flies like mops, squirmies and eggs are often top producers but don't forget about the old regulars like Pat's Rubber Legs and smaller pheasant tails. Concentrating on deeper slower pools, and making sure your fly is getting deep are usually keys to success. But it's worth trying some quicker water, especially on days where it warms up a bit.
Some days have seen surface feeding fish eating relatively large midges on the lower stretches of the D. Griffith's gnats in 18s and 20s can work here, but have some smaller flies too as I suspect these midges will get smaller as the winter wears on.
Join us at the Element Brewing Company, 16 Bridge St, Millers Falls on Thursday December 23rd, starting at 6 p.m. for some fly tying and holiday cheer. Jay Aylward, who guides here at the shop and owns the Handmade Angler, and I will be on hand sharing some of our go-to Deerfield River ties. We will have material for those flies on hand, but bring your tools and other materials to tie on your own as well. Please RSVP to [email protected] or 413-397-3665.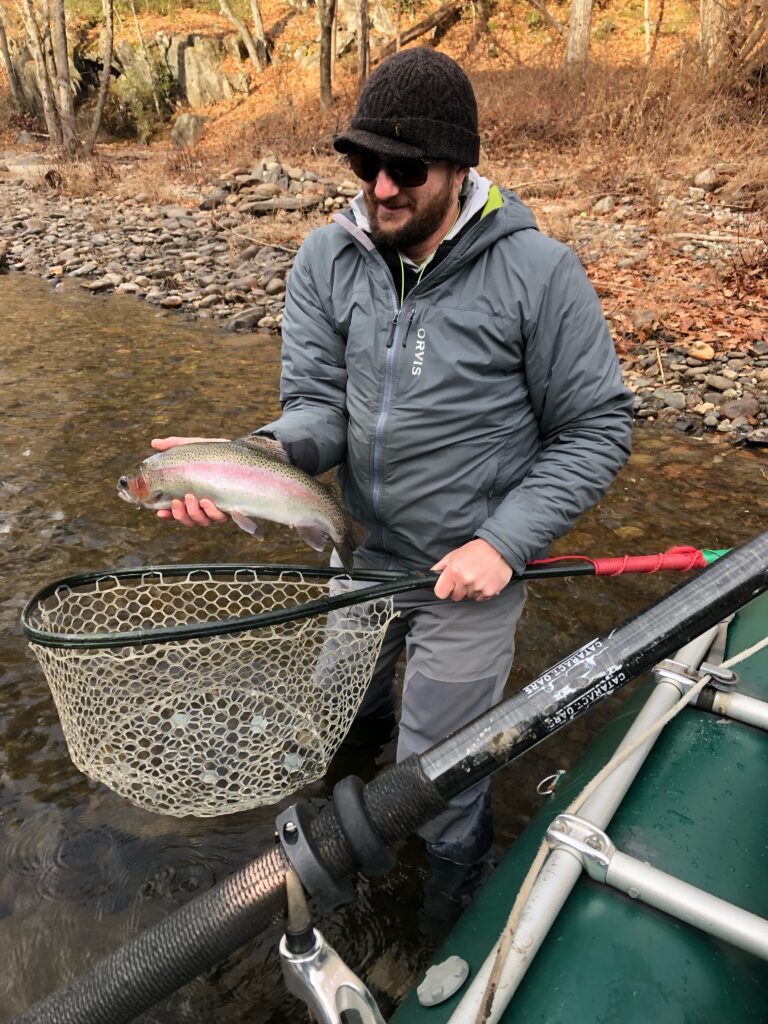 The trout have also been chasing streamers. Start with olive but vary up color if that isn't working. Vary your retrieve as well. I tend to start with a fairly slow presentation but adding some bursts of speed will often get the attention of hungry trout. Smaller headbangers and bank robbers are working and so will the old standbys like woolly buggers.
While it can be easier to fish the Deerfield by boat when the water is up, the wade fishing can be really good at higher levels as well. This is especially true when the water is up for long periods of time. Do be careful as the wading is tricky and the water is cold, not an ideal combination. The good news though is you generally don't have to wade very far out. Concetrate on the insides of bigger bends and the deeper slower pools.
The most consistent winter fishing, and the easiest wading, will be on the Swift River. Junk flies will work at times, as will small soft hackles. But you may also need to go really small with your nymphs. Zebra midges in 22s and 24s and simple midge nymphs even smaller. You will see rising fish fairly regularly here. These are often on size 26 and smaller midges so be prepared to go tiny with 7x or lighter tippet.
For some of us, it's more tying than fishing season and we have you covered here at the shop. We are well stocked with materials, including an expanding selection of Firehole hooks and beads as well as a nice shipment of some amazing looking hackle from Whiting Farms. We also have a lot of classes and events coming up.
On Saturdays all winter (with the exception of Christmas and New Years days) we offer drop-in tying at the shop starting at 10:30 a.m. Bring your tools and materials after 10:30 and spin up some bugs with your fellow tyers. This is a greta opportunity to meet other tyers and anglers and share some great information. South Deerfield has no mask mandate, but feel free to come masked if you'd like. We may have to limit the numbers to keep people comfortable.
In January we will start up a series of fly tying events, from free beginner classes to some well known tyers to some river and species specific classes. Keep an eye on our social media feeds and the Classes/Seminars page here on our website for a current list of offerings.
Guided trips and lessons available. Call us at 413-397-3665 or email [email protected]
Dries: BWOs in 18 to 24; midges
Nymphs: Pat's Rubber Legs, Golden or Black Terminator Stone 8-12, eggs, hares' ears in natural and black 10-14, Pheasant Tail Nymphs 12-18, Frenchies 12-16, Tan/Olive Mops, Squirmies, Natural/Olive Caddis Pupae/Larvae 12-16, Red/Copper Johns 12-16, Sexy Walt 12-16, Gilled Nymph 10-14, Zug Bug 10 to 12.
Streamers: Headbangers, Ice Picks, Woolly Buggers Olive/Black 6-10, White/Olive Sculpzilla 8,Bank Robber 2, Ice Picks, Heisenberg Baby Bow/Cowboy/White 6, Sculpin Bunny, Black/Brown Rubber Bugger 4, Black, white and olive Zonkers.
Water Flows for Fife Brook Dam can be found here
Water release schedule for the next day is posted after 5pm. Check again before you head to the river. Minimum Flow 130 CFS (Cubic Feet/Second). Ideal for wading and Dry Fly Action. Normal Release 800-1,000 CFS
Dam release for the #2 Dam in Buckland can be found here
For Miller's River in Erving here
For Miller's River Bear's Den area here
For East Branch of the Westfield here