River Report 2/17/21

Winter fishing in the area continues to be pretty solid! Though it's been cold and relatively snowy, reports keep coming in of some decent fishing to be had on the Deerfield, Swift and other area rivers.
With the recent rain and subsequent snowmelt, I would think the Deerfield would turn off a bit for a few days but as cold temps return, the fishing should pick back up again. I would concentrate your efforts up above Charlemont as the ice has taken hold throughout much of the river below there. But there's open water below Fife Brook Dam.
We've got a number of fly tying events these next couple months so be sure to check our Classes/Seminars page for more details.
I like to fish a bigger attractor nymph like a stone fly and then drop a smaller nymph like a #16 pheasant tail or Frenchie off of that. Junk flies like mops, squirmies and eggs will work as well. Slow and deep is generally the name of the game in the winter. Sustained higher flows (around 900cfs or better) tend to get the fish stacked up into holding lies on the insides of big bends and in the deeper pools, where they will generally be out of the main currents in softer water, usually near the bottom. As a rule, these fish are not feeding aggressively so you really need to get your fly right on their noses.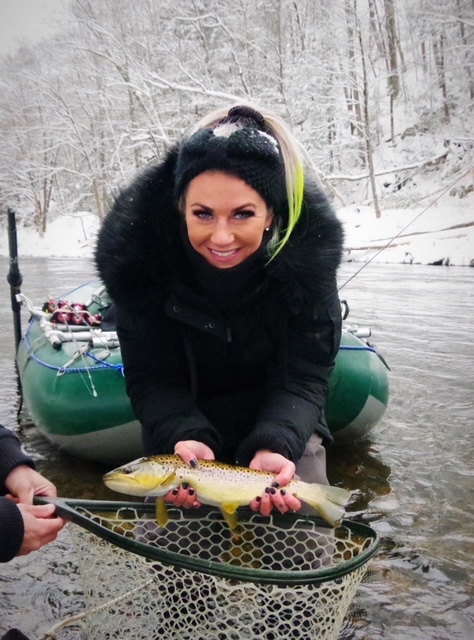 Streamer fishing can also work quite well this time of year. Again, slow and deep is the usual mantra, but mix it up every once in awhile just in case there is a more aggressive feeder lurking around.
The Swift River is always a good winter spot to try if you are willing to brave the crowds. Junk flies will work here as well, but so will much smaller nymphs like Zebra midges in 20s to 24s and pheasant tails in 20 and smaller. You may even run into the occasional fish rising to tiny midges.
Guided trips and lessons available. Call us at 413-397-3665 or email [email protected].
Dries: Midges, BWOs in 20 to 22
Nymphs: Pat's Rubber Legs, Golden or Black Terminator Stone 8-12, eggs, hares' ears 12-18, Pheasant Tail Nymphs 12-18, Frenchies 12-16, Tan/Olive Mops, Squirmies, Natural/Olive Caddis Pupae/Larvae 12-16, Red/Copper Johns 12-16, Sexy Walt 12-16.
Streamers: Woolly Buggers Olive/Black 6-10, White/Olive Sculpzilla 8,Bank Robber 2, Mini Headbangers, Alter Egos, Silly Rabbits, Complex Twist Bugger, Heisenberg Baby Bow/Cowboy/White 6, Sculpin Bunny, Black/Brown Rubber Bugger 4.
Water Flows for Fife Brook Dam can be found here
Water release schedule for the next day is posted after 5pm. Check again before you head to the river. Minimum Flow 130 CFS (Cubic Feet/Second). Ideal for wading and Dry Fly Action. Normal Release 800-1,000 CFS
For Miller's River in Erving here
For Miller's River Bear's Den area here
For East Branch of the Westfield here
[fusion_widget_area name="avada-blog-sidebar" title_size="" title_color="" hue="" saturation="" lightness="" alpha="" background_color="" padding_top="" padding_right="" padding_bottom="" padding_left="" hide_on_mobile="small-visibility,medium-visibility,large-visibility" class="" id="" /]