River Report 4/10/21

Spring has arrived in full force out here in western Mass. Trees are starting to bud and the stocking trucks have been rolling for a few weeks now. Most area rivers have received at least one stocking of rainbow and/or brown trout. Abundant sunshine and seasonably warm weather has the fishing most definitely on the upswing.
For most rivers around here, fifty degrees is kind of the magic number for a marked increase in insect activity, which is greeted by a marked increase in trout activity. Area freestones have been peaking at over fifty degrees most afternoons this week. The upper Deerfield is still a bit cooler in the low to mid forties but generally warms a bit as you go downstream. All this is to say that we seem to be heading into the prime trout fishing season around here.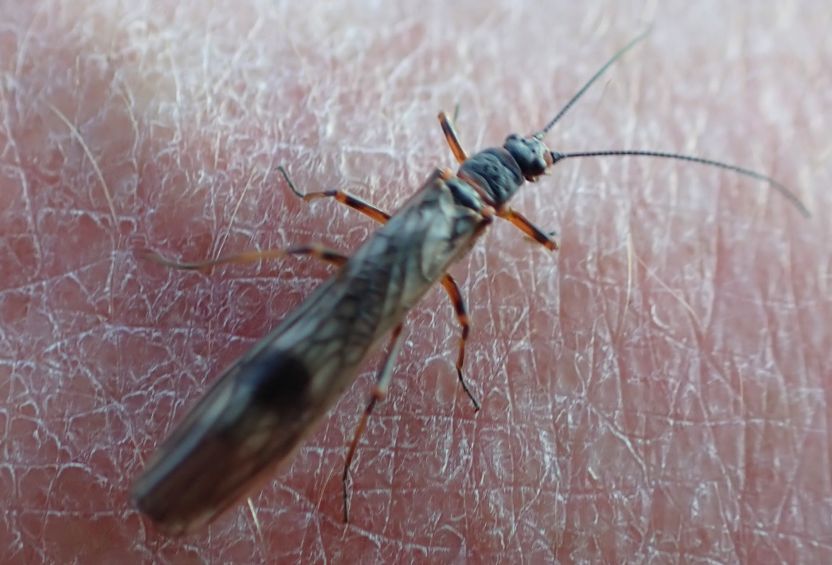 Black stones in a size 12 or 14 have been laying eggs on the surface of the Deerfield in the Shelburne/Buckland area and trout have been on them. I saw scattered fish rising up closer to Fife Dam last Sunday and reports have trickled in of risers up and down the river. Most are pretty scattered and likely on those stones, midges or small Baetis mayflies. Look for blue quills/mahogany duns (size 16 Parachute Mahogany Duns and #16 rusty spinners work well for this bug) to start hatching followed by the Quill Gordons and Hendricksons.
Because our initial offering in May filled up so quickly, we will be offering another Women's Fly Fishing Retreat on July 9 and 10. The cost will be $300 and this should fill quickly as well. We will also be offering a series of beginner and intermediate casting clinics in April and May taught by master casting instructor Jim Dowd. See our Classes/Seminars page for more info.
Flows have generally been low on the Deerfield and area freestones this month as we have seen no rain and are substantially lower than typical years. This is good for early season surface activity. It is not great for mid and long term prospects, though we are supposed to get some rain tomorrow and early next week. And who knows what the weather will do after that.
Nymphing will still be your best bet until the water warms even further. Bigger stoneflies like Pat's Rubber Legs and Terminator stones paired with hare's ears in natural or black will work well. Since most of the early season mayflies are on the bigger side, pheasant tails, prince nymphs and other staple nymph patterns in sizes 10 to 14 should do the trick as well. Caddis pupae and larvae are always a good bet on the Deerfield and most of the freestones. And the junk always works: eggs, worms and mops.
Spring is also great for streamer fishing and I have gotten some of my best fish in April on large articulated streamers. Rich Strolis' Articulated Ice Pick, Heisenbergs and Bank Robbers are good patterns to try. I like to vary up the color of the fly and my retrieve until I find what seems to be coaxing some strikes. Smaller streamers will also work. You can't go wrong with wolly buggers in olive or black or zonkers.
Pike are active on the Connecticut River right now and the rising water temperatures will get the smallmouth bass more active as well. Ponds should be coming to life as well with largemouth bass looking to pack some calories before their spawn.
This is a great time of year to be a fly angler in western Massachusetts! Get on out there if you can!
Guided trips and lessons available. Call us at 413-397-3665 or email [email protected]
Dries: Midges, BWOs in 20 to 22; Black stones in 12 and 14; Olive Stimulators in 12-14; Parachute Adams 10 to 14; Parachute Hare's Ears 12-14; Parachute Mahogany Dun 16; Light and Dark Hendrickson 12-14
Nymphs: Pat's Rubber Legs, Golden or Black Terminator Stone 8-12, eggs, hares' ears in natural and black 10-14, Pheasant Tail Nymphs 12-18, Frenchies 12-16, Tan/Olive Mops, Squirmies, Natural/Olive Caddis Pupae/Larvae 12-16, Red/Copper Johns 12-16, Sexy Walt 12-16.
Streamers: Woolly Buggers Olive/Black 6-10, White/Olive Sculpzilla 8,Bank Robber 2, Ice Picks, Heisenberg Baby Bow/Cowboy/White 6, Sculpin Bunny, Black/Brown Rubber Bugger 4, Black, white and olive Zonkers.
Water Flows for Fife Brook Dam can be found here
Water release schedule for the next day is posted after 5pm. Check again before you head to the river. Minimum Flow 130 CFS (Cubic Feet/Second). Ideal for wading and Dry Fly Action. Normal Release 800-1,000 CFS
For Miller's River in Erving here
For Miller's River Bear's Den area here
For East Branch of the Westfield here