River Report 5/21/21
Last Saturday night after work I hooked, and lost, my first two Deerfield River dry fly trout of the season. On Sunday I spent the afternoon and evening chasing bass and shad on the Connecticut River. The next day it was back to the Deerfield where I found a 21-inch wild brown trout, landed my first Deerfield River dry fly fish and saw a bear on the way home. And on Tuesday another quick after work trip yielded the lower Deerfield trifecta: a trout, a smallmouth and a pig fallfish! And I saw a coyote on the way home.
It's good to be a fly angler this time of year in western Mass!
This warm, dry weather has ramped up the fishing and we are very much in prime time. Within a half hour's drive of the shop, you can catch trout on dry flies, smallmouth bass, largemouth, panfish, walleye, shad, striped bass, pike, carp (just ask Reece!) and even the vaunted fallfish! Water flows across the region are falling from what had been moderately high levels to typical or even slightly low flows.
On the Deerfield, the Hendrickson hatch is winding down, though I would still have some Rusty Spinners in a size 12 if I am out on the stream at dusk and some dun patterns for the afternoons. March Browns are here. These bugs hatch sporadically throughout the day but what they lack in numbers they make up for in size, and the trout appear to think they taste just fine. I like bigger parachute patterns in 10s and 12s. We should be seeing Pale Evening duns any day and soon after that Cahills and Sulphurs. Evenings have seen some decent spinner falls of Hendricksons as well as some smaller bugs, perhaps Mahogany duns in 16. I always have Rusty Spinners from a size 12 to a size 20 in my box from April through November. These imitate nearly all mayfly spinners and even if not a perfect match will suffice in a pinch.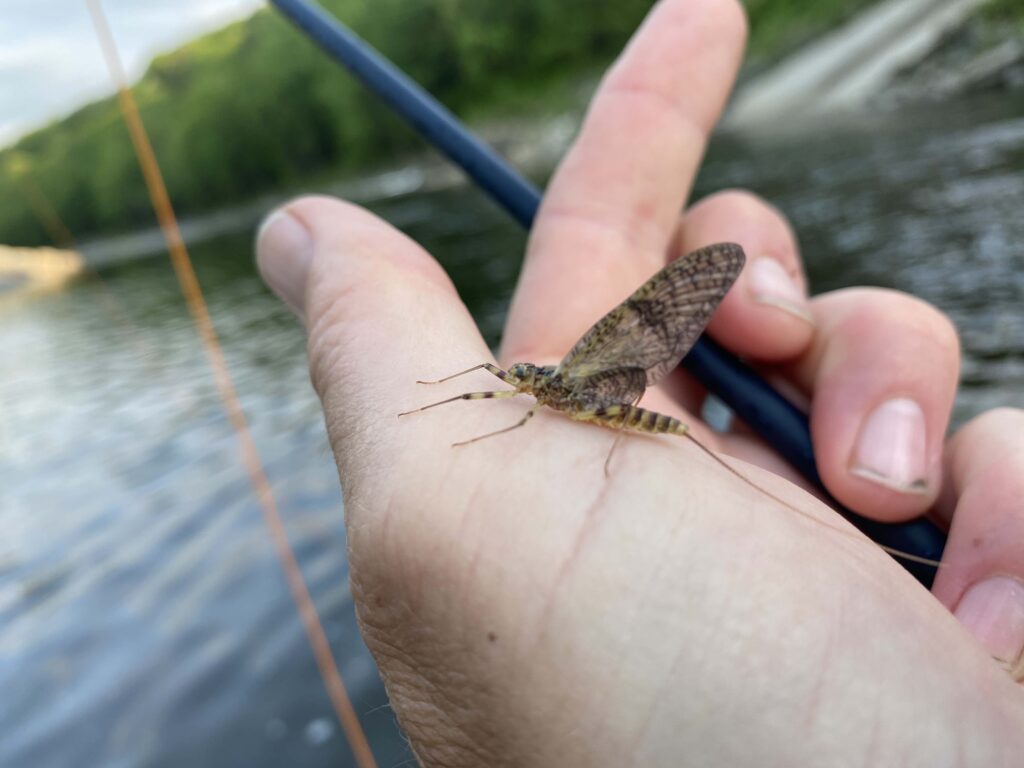 Caddis are also very abundant, as always, on the D. Having a variety of sizes from 12s to 18s in tan and olive should cover you. I like to have some patterns that float well, like the classic Elk Hair Caddis, and can be skittered easily as well as some that ride a little lower in the surface for the fussier eaters, like Sedgehammers or Snowshoe Caddis.
The bite below the surface continues to be good and will produce throughout the day. Pheasant Tails in 10 to 14, Hares Ears in the same sizes, Prince nymphs, larger stoneflies, caddis larvae and pupae, soft hackles–the choices are wide and all will work at different times. Streamers are also effective this time of year, from wooly buggers to bigger articulated monsters can all be effective.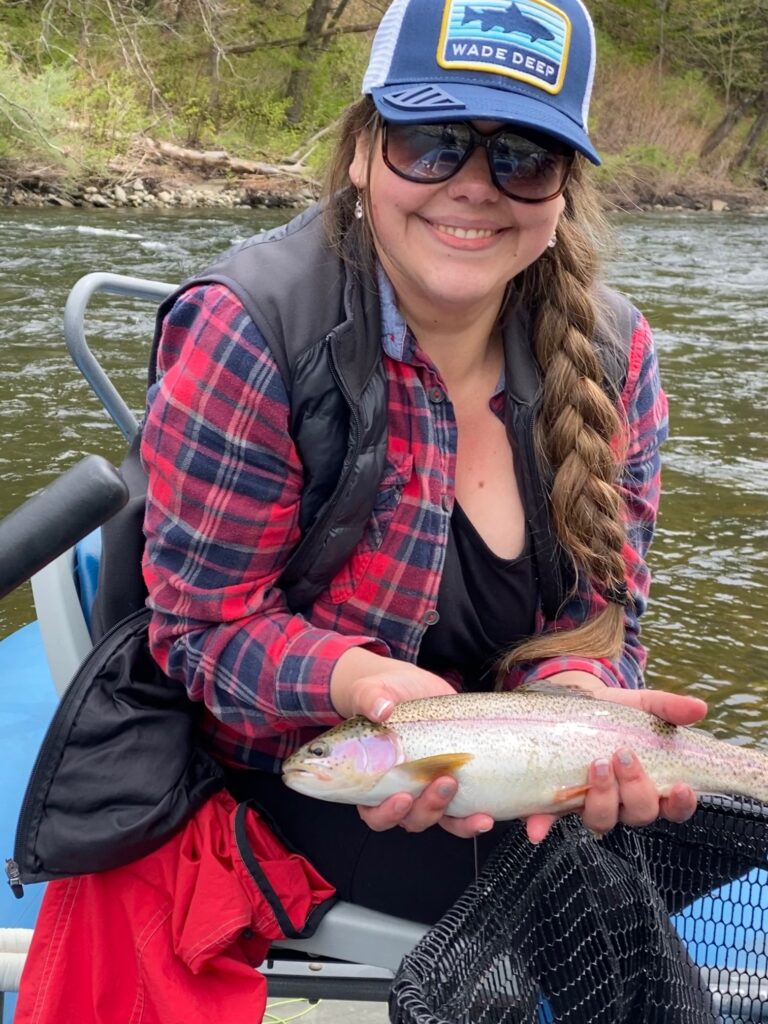 Because our initial offering in May filled up so quickly, we will be offering another Women's Fly Fishing Retreat on July 9 and 10. The cost will be $300 and is filling quickly.
Area freestones have all come down to very fishable levels and are fishing quite well. The North, Westfield and Green Rivers are all amply stocked and providing good action. The Millers is also down to decent levels and offering good dry fly and subsurface fishing. Hopefully we will get reasonable amounts of rain over the next weeks and months and these rivers will stay fishable for awhile.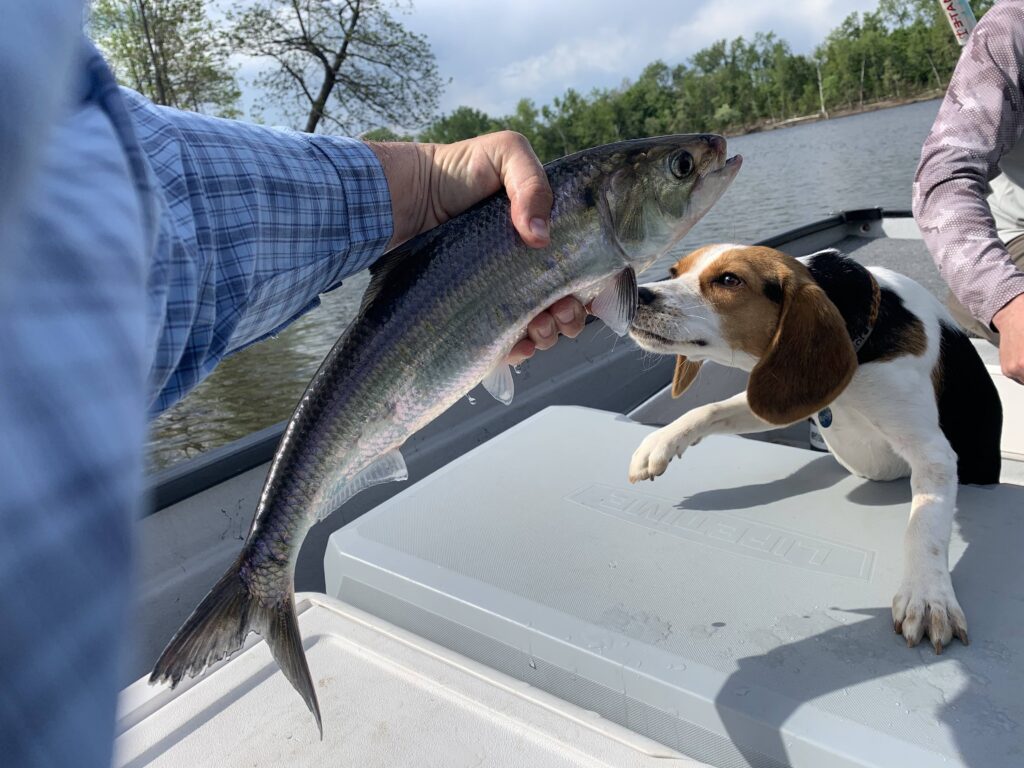 Shad are thick in the Connecticut and have moved up into tributaries like the lower Deerfield. These fish are a ton of fun on the fly rod and we have some killer house-tied jigs in stock for a limited time.
As you can see, the carp fishing, for those like Reece who really know how to do it, has been outstanding. That big fish is just one of many Reece has taken recently. This will slow a bit as more fish get on the spawn and become exceedingly difficult to catch, but should turn around again later in June.
Smallies are starting to bed up but many are still in pre-spawn mode. Avoid fishing to them on their redds but look to faster moving water for some big boys and girls getting frisky before bedding down! Largemouth fishing also continues to improve as area lakes and ponds warm up. These fish are still in prespawn and should fish well for the next few weeks.
Guided trips and lessons available. Call us at 413-397-3665 or email [email protected]
Dries: Light Hendrickson 14-16, Dark Hendrickson 12-14, Quill Gordon 14, Parachute Hare's Ear 12-16, Parachute March Brown 12-14, Midges, Parachute Adams 10 to 14; Parachute Mahogany Dun 16-18; Rusty Spinners 12-16, Elk Hair Caddis tan and Olive 14 to 18, Sedgehammer 14-16, Snowshoe caddis
Nymphs: Pat's Rubber Legs, Golden or Black Terminator Stone 8-12, eggs, hares' ears in natural and black 10-14, Pheasant Tail Nymphs 12-18, Frenchies 12-16, Tan/Olive Mops, Squirmies, Natural/Olive Caddis Pupae/Larvae 12-16, Red/Copper Johns 12-16, Sexy Walt 12-16.
Streamers: Woolly Buggers Olive/Black 6-10, White/Olive Sculpzilla 8,Bank Robber 2, Ice Picks, Heisenberg Baby Bow/Cowboy/White 6, Sculpin Bunny, Black/Brown Rubber Bugger 4, Black, white and olive Zonkers.
Water Flows for Fife Brook Dam can be found here
Water release schedule for the next day is posted after 5pm. Check again before you head to the river. Minimum Flow 130 CFS (Cubic Feet/Second). Ideal for wading and Dry Fly Action. Normal Release 800-1,000 CFS
Dam release for the #2 Dam in Buckland can be found here
For Miller's River in Erving here
For Miller's River Bear's Den area here
For East Branch of the Westfield here