River Report 5/25/23
It's game time out here in western Mass! The rivers are all at really good levels, water temperatures are optimal, bugs are stirring and all manner of game fish are on the feed! With a banner forecast for  Memorial Day Weekend, there's no better time to get out and chase some fish.
On the Deerfield River and area freestones like the Millers. Westfield, Green and North Rivers, water temps are generally around 60 degrees and there are good hatches of mayflies, caddis and stoneflies. Hendricksons can still be found. I expect these bugs will start winding down soon, but there are still fishable hatches of them in the afternoons and sometimes evenings so I will make sure to have Sparkle Duns in  12 and 14. March Browns have been spotted and will become more and more prevalent. These hatch sporadically throughout the day in small numbers but are a good meal so the fish tend to respond to them. Big tan Klinkhammers as well as traditional March Brown patterns in 12 are my go to. We have seen some Sulphurs already, though not really in fishable numbers yet, but that should change within a week or two. Look for the best hatches of these in the evenings and be armed with Sulphur Sparkle Duns in 14 and 16 as well as emergers and spinners in the same sizes. Also be on the lookout for Light Chills and Pale Evening Duns. Cahill patterns in 12 to 16 should cover you here. Caddis in sizes 14 and 16 are also hatching and can come off throughout the day and in the evenings as well. And yellow sallies as well as some bigger stones have been hatching as well. It's definitely one of the buggiest times of year. Though dry fly action has been a bit spotty to date, I suspect that any day now we should see more consistent topwater action.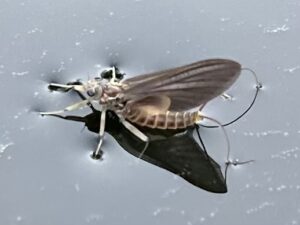 If you or someone you know is looking to get into fly fishing, we have an immersive entry level retreat that will expose the new or beginner angler to all aspects of fishing with a fly. The first afternoon focuses on hands-on casting instruction followed by an hour plus of classroom instruction covering everything from knots to terminology. The second morning is a chance to put it all together on a half-day float with our expert guides. The next offering, open to all, is June 9-10 (more info here) and another for women only is July 7-8 (more info here).
Nymphing will continue to produce fish throughout the day and in between hatches. I will often fish two flies under an indicator with a pheasant tail in 12 or 14 and some type of caddis nymph in 12 or 14. I have also started fishing a dry dropper rig with a big March Brown or something bushy like a Humpy as my dry fly and a size 14 pheasant tail to good effect.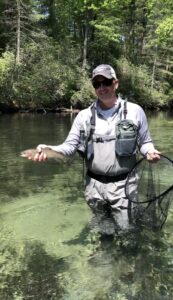 The Swift River is also fishing very well. There have been some terrific hatches of olives, caddis and sulphurs recently. The evening hatch can be quite good and offer very good dry fly opportunities. Swinging small soft hackles has also been effective along with leeches and small streamers. Smaller nymphs in 18 to 22 have also been taking fish.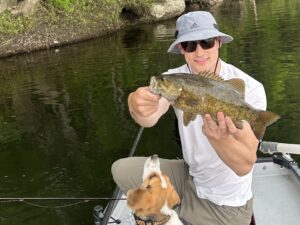 Trout are by no means the only game in town right now. Pretty much all our gamefish are fishing really well right now. Smallmouth and largemouth bass have been feeding pretty good but are also on the spawn right now. Please leave these fish alone when they are on their beds–though they may return to the beds after you release them, predators get in there and eat up a lot of the eggs and fry and the bass will abandon the nests if enough predation has occurred to make the energy expenditure not worth it. And this happens quicker than you think–predators can decimate a bass nest within minutes. I like to avoid areas with lots of redds and fish topwater for bass right now as this will generally be ignored by nesting fish–and the topwater bite has been getting better! I've gotten several nice bass on sliders and poppers.
Carp fishing is solid right now and we should have a couple weeks still until they are hard on the spawn–and really difficult to catch. Pike are in post-spawn mode and eating much better.
The shad run is also here. Big numbers of shad continue to pass through the Holyoke Dam and have been providing good sport up and down the Connecticut River. There have been a few schools of shad coming up into the Deerfield and their numbers should only increase in the next couple weeks. We have shad dart flies for these fish that are super fun on a fly rod.
There are a two cool TU events coming up in the near future.
The Deerfield River Watershed TU's Annual Jim Gariepy Memorial One-Fly Tournament is Sunday June 4. There will be food and raffles as well as fly fishing instruction and other good things! Click here for more info. You will also be able to register for the tournament at the Deerfield Fly Shop.
The Massachusetts Council's Annual Caddisfest Weekend is June 2-4 at Foolhardy Hill in Charlemont. There are only a couple tent sites left. You can camp here and enjoy the festivities and fish the one-fly on Sunday! Look here for more details and to register.
That first weekend is free fishing weekend in Massachusetts so no license is needed. It also is designated as a low-flow weekend on the Deerfield so barring an enormous amount of rain, there will be no releases from Fife Dam Saturday and Sunday June 3 and 4.
[fusion_widget_area name="avada-blog-sidebar" title_size="" title_color="" hue="" saturation="" lightness="" alpha="" background_color="" padding_top="" padding_right="" padding_bottom="" padding_left="" hide_on_mobile="small-visibility,medium-visibility,large-visibility" class="" id="" /]