River Report 6/18/21
As the summer solstice approaches, fishing in the area remains really good. Sulphur hatches are still going strong on the Deerfield River, with late evenings often producing some memorable surface activity on emergers, duns and spinners. Klinkhammers, sparkle duns and spinners in 16 and 18 are my go to patterns right now. Sometimes Cahills, caddis and other bugs might also be mixed in so be ready to switch it up and go with what the fish are eating. Look for sulphur spinner falls in the mornings and caddis throughout the day. The caddis have been pretty variable so having a good selection of colors and sizes will help you match what's hatching.
Attractor patterns like Humpies and small PMXs can often work when there is little hatch activity and terrestrials, especially ants and beetles for now, are becoming more and more effective. Dry/dropper pairings are always good on the D. I like bigger dries like Humpies so I can float some fairly decent sized nymphs off of them.
We have literally hundreds of dozens of flies overflowing our fly bins right now, including a recent batch of tasty streamers tied by Rich Strolis himself. Streamers are effective all year. In the summer months, I like them best on overcast or rainy days and at the edges of days–early mornings or at dusk. Nighttime can be the right time too! Rich's Headbanger Sculpin is usually where I start (though at night I avoid heavily weighted flies like that!).
Nymphing is always worthwhile, particularly during the day. Big stones paired with a smaller mayfly or caddis nymph usually covers the bases. If the water is especially low and clear I will tend to throw something a bit smaller, like maybe a size 14 soft hackle pheasant tail and a 16 caddis larva.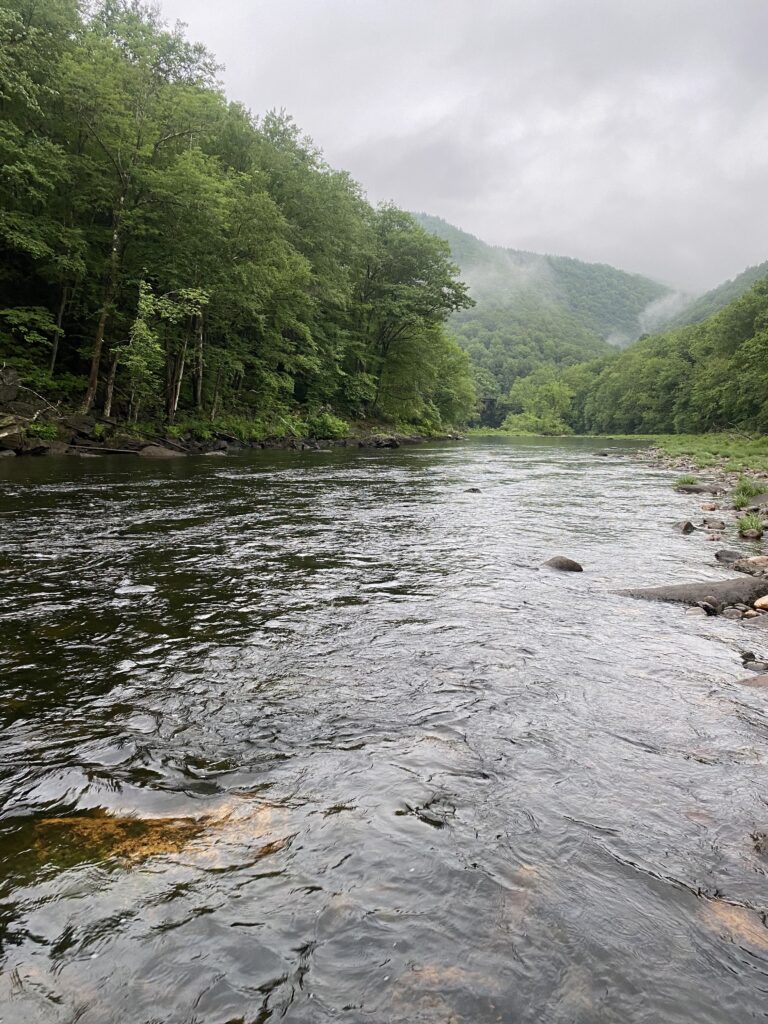 We have two beginner casting clinics scheduled for July 22 at 5:30 pm and July 24 at 10 am. Jim Dowd will teach these and space is very limited, so act quickly! Call or email to reserve your space.
Area freestones are all on the lower side, but one good rain would help things out a bunch. Even so, they are fishing pretty well right now as these cool nights have kept them viable. The East Branch of the Westtfield is certainly worth an evening or early morning.
The sulphurs are hatching well on the Swift as the sun begins to go down. Size 18 seems to be the ticket on this hatch here. At other times, small midges (22-26 or even smaller) are often the answer, and small pheasant tails (18-22) and midge nymphs like Zebra midges (20-24) are also effective.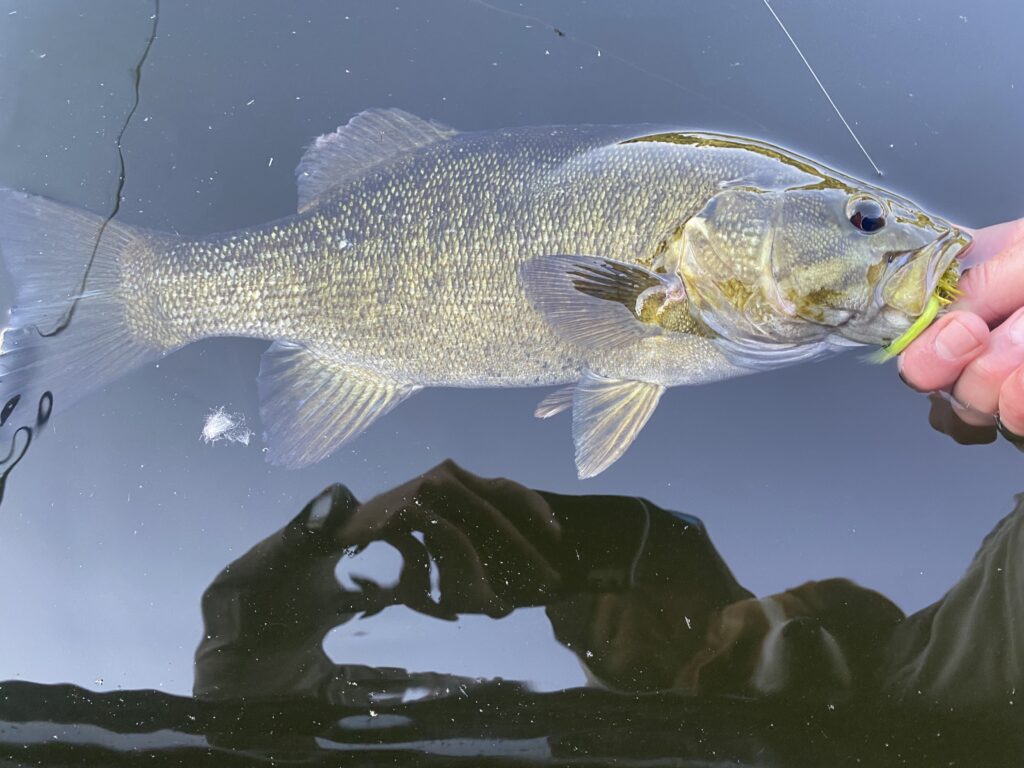 Warmwater opportunities are abundant and well worth your while. Smallie fishing on the Connecticut River and the bottoms of major tributaries like the Deerfield, Millers and Westfield is really good right now. They are apt to hit topwater poppers and sliders, especially as it gets closer to dusk and into the night. During the day sometimes you need to get a little deeper with a weighted crayfish pattern or streamer and sink tips. I often find them in faster water during the day.
If you follow our very own Reece on facebook or Instagram you know that the carp fishing remains good–at least for him! These are easily spooked fish that can be quite difficult to catch but are well worth the effort. Montana Hybrids are a good fly choice and remember that stealth and delicacy will increase your odds greatly.
The shad run is pretty much done. There are still many around but these tend to be post-spawn, spent fish that have little interest in flies and are not much sport any way.
Guided trips and lessons available. Call us at 413-397-3665 or email [email protected].
Dries: Parachute Sulphur 14 to 16, Sulphur Sparkle duns 14-16, Sulphur spinners 14-16, Parachute Hare's Ear 12-16, Parachute March Brown 12-14, Midges, Parachute Adams 10 to 14; Parachute Mahogany Dun 16-18; Rusty Spinners 12-16, Elk Hair Caddis tan and Olive 14 to 18, Sedgehammer 14-16, Snowshoe caddis
Nymphs: Pat's Rubber Legs, Golden or Black Terminator Stone 8-12, eggs, hares' ears in natural and black 10-14, Pheasant Tail Nymphs 12-18, Frenchies 12-16, Tan/Olive Mops, Squirmies, Natural/Olive Caddis Pupae/Larvae 12-16, Red/Copper Johns 12-16, Sexy Walt 12-16.
Streamers: Woolly Buggers Olive/Black 6-10, White/Olive Sculpzilla 8,Bank Robber 2, Ice Picks, Heisenberg Baby Bow/Cowboy/White 6, Sculpin Bunny, Black/Brown Rubber Bugger 4, Black, white and olive Zonkers.
Water Flows for Fife Brook Dam can be found here
Water release schedule for the next day is posted after 5pm. Check again before you head to the river. Minimum Flow 130 CFS (Cubic Feet/Second). Ideal for wading and Dry Fly Action. Normal Release 800-1,000 CFS
Dam release for the #2 Dam in Buckland can be found here
For Miller's River in Erving here
For Miller's River Bear's Den area here
For East Branch of the Westfield here
[fusion_widget_area name="avada-blog-sidebar" title_size="" title_color="" hue="" saturation="" lightness="" alpha="" background_color="" padding_top="" padding_right="" padding_bottom="" padding_left="" hide_on_mobile="small-visibility,medium-visibility,large-visibility" class="" id="" /]