River Report 7/2/21
Happy Fourth of July! It's gonna be a wet one, which is a bummer for barbecues but the rain and cooler weather should give a boost to our area rivers. As long as the rivers don't rise too much, the fishing should really improve this weekend and hopefully continue to fish well as the rivers recede.
With all its dams and water diversions, the Deerfield River will have wade fishing opportunities somewhere most of the weekend, even with the increased flows. As I write this on Friday morning, the Fife Dam release was 130 cfs despite all the rain last night and the power company appears to intend to stick to its scheduled release at noon. I suspect they will release more water tomorrow than just the scheduled three hour midday release, but who knows? Stop by the shop if you need help deciphering the various dam releases and we should be able to find you some water to fish.
The increased flows might put some of the area freestones like the Green, North and Westfield Rivers back into play. The water temps on the Green have plummeted from highs over 80 degrees this past week in a flow around 10 cfs to the mid-60s and dropping with flows over 300 and climbing as of Friday morning. As this river drops under 200 it could fish well. For the North, look for that flow to drop under 400 and for the Westfield under 500, and those rivers should provide some good trout fishing for a couple days at least. All these rivers are rising fast right now, but they also drop fairly fast once the rain stops.
Sulphurs are still the major hatch in the area. This cooler weather should bring out some BWOs as well. Isonychias are also around and can provide good dry fly action. Attractor patterns like Humpies and small PMXs can often work when there is little hatch activity and terrestrials, especially ants and beetles for now, are becoming more and more effective. Dry/dropper pairings are always good. I like bigger dries like Humpies so I can float some fairly decent sized nymphs off of them.
We have literally hundreds of dozens of flies overflowing our fly bins right now, including a recent batch of tasty streamers tied by Rich Strolis himself. Streamers are effective all year. With this rain, streamer fishing should be fantastic. As the rivers are still higher than usual but dropping, this streamer bite can really take off. Rich's Headbanger Sculpin is usually where I start.
Nymphing is always worthwhile, particularly during the day. Big stones paired with a smaller mayfly or caddis nymph usually covers the bases. If the water is especially low and clear I will tend to throw something a bit smaller, like maybe a size 14 soft hackle pheasant tail and a 16 caddis larva. With the increased Iso activity I would not overlook Zug Bugs and Gilled Nymphs as well.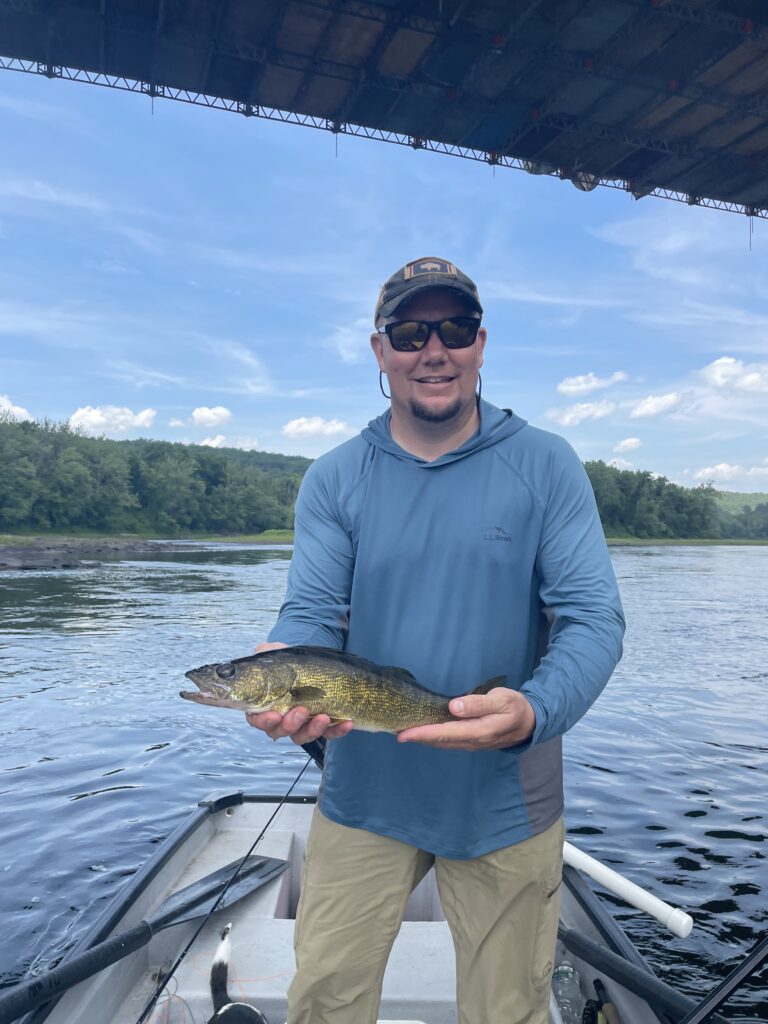 We have two beginner casting clinics scheduled for July 22 at 5:30 pm and July 24 at 10 am. Jim Dowd will teach these and space is very limited, so act quickly! Call or email to reserve your space.
The Swift River will generally be spared from the high waters and, in fact, if the Connecticut River comes up enough, they will likely decrease the release from the Quabbin Reservoir. The sulphurs are hatching well on the Swift as the sun begins to go down. Size 18 seems to be the ticket on this hatch here. At other times, small midges (22-26 or even smaller) are often the answer, and small pheasant tails (18-22) and midge nymphs like Zebra midges (20-24) are also effective.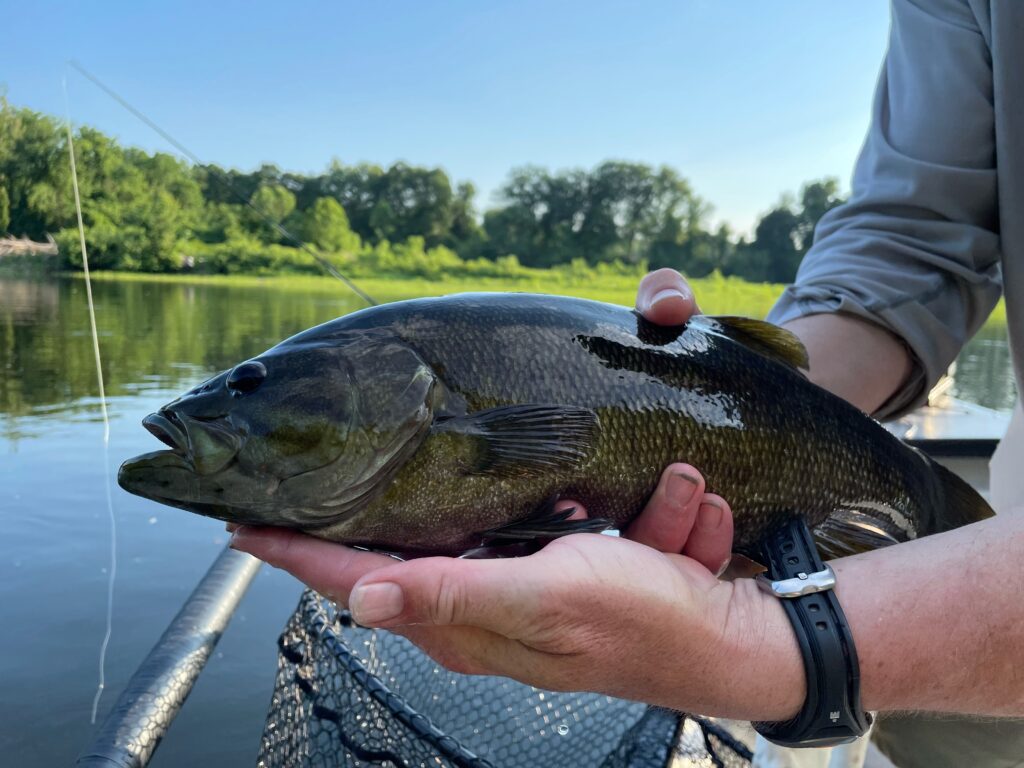 Warmwater fishing has been outstanding recently. My buddy Farmer John and I hit the Connecticut River last Monday at the height of the heatwave and had a banner day. We caught a walleye, a pike and numerous bass, including many in the 2 to 3 pound class on topwater poppers. Other outings have produced similarly. The Connecticut River is criminally underutilized by fly anglers. The smallmouth fishing can be epic, and pike, walleye, shad, carp and numerous other species are also available. The river is thick with eagles these days and you can get to places that feel as remote as any trout stream or you can catch honking fish in more urban environments. A boat, kayak or canoe is the best way to cover a lot of ground, but there are decent wading opportunities behind Turners Falls. You can also wade the bottoms of the major tribs like the Deerfield, Millers or Westfield and find lots of willing bass.
The more I fish for smallmouth the more enamored of them I become. The topwater eats can be ferocious as they emerge from nowhere and explode upon your popper. They can be voracious and they can be fickle. They always fight like fish twice their size and are generally good for two or more leaps into the sky. I like to start out with topwater flies like poppers and sliders and if they don't want to come up and play, I will throw streamers. Black and chartreuse are my go to colors but experiment and see what they key in on. Sometimes going bigger is better and I will cast a Swinging D on a sinking line, other times a black wooly bugger is all you need.
Before this cold front the largemouth fishing had been really hot. I expect it may turn down for a bit but should pick right back up once the warmer weather returns. As with smallmouth, I start with topwater poppers and then try various streamers if those don't work. Most area ponds big and small have populations of largemouths that can be loads of fun.
Our man Reese continues to torment carp in the area. He said they are all pretty much post spawn and have put on some impressive feedbags. Reese had a 20 fish day recently. Small crawfish patterns like the Carpnasty and Montana's Hybrids have been working. The key with carp is presentation–getting your fly in front of the carp without spooking it but also making sure it gets the fish's attention. It's not easy, but when you get an eat you will understand why fly fishing for carp has taken off in popularity in recent years.
Guided trips and lessons available. Call us at 413-397-3665 or email [email protected]
Dries: Parachute Sulphur 14 to 16, Sulphur Sparkle duns 14-16, Sulphur spinners 14-16, Parachute Hare's Ear 12-16, Parachute March Brown 12-14, Midges, Parachute Adams 10 to 14; Parachute Mahogany Dun 16-18; Rusty Spinners 12-16, Elk Hair Caddis tan and Olive 14 to 18, Sedgehammer 14-16, Snowshoe caddis
Nymphs: Pat's Rubber Legs, Golden or Black Terminator Stone 8-12, eggs, hares' ears in natural and black 10-14, Pheasant Tail Nymphs 12-18, Frenchies 12-16, Tan/Olive Mops, Squirmies, Natural/Olive Caddis Pupae/Larvae 12-16, Red/Copper Johns 12-16, Sexy Walt 12-16.
Streamers: Woolly Buggers Olive/Black 6-10, White/Olive Sculpzilla 8,Bank Robber 2, Ice Picks, Heisenberg Baby Bow/Cowboy/White 6, Sculpin Bunny, Black/Brown Rubber Bugger 4, Black, white and olive Zonkers.
Water Flows for Fife Brook Dam can be found here
Water release schedule for the next day is posted after 5pm. Check again before you head to the river. Minimum Flow 130 CFS (Cubic Feet/Second). Ideal for wading and Dry Fly Action. Normal Release 800-1,000 CFS
Dam release for the #2 Dam in Buckland can be found here
For Miller's River in Erving here
For Miller's River Bear's Den area here
For East Branch of the Westfield here