River Report 9/22/21
I know many fly anglers around here are most interested in the trout fishing, but I will get to that later! The bass fishing has been too good lately to be relegated to the bottom of the report. I have been beating this drum for awhile, but I'll keep at it: Bass are heaps of fun to chase on the fly. And there is precious little time left in the season to really target them on topwater flies, which is some of the most fun you can have with a fly rod in your hand.
Smallie action on the Connecticut has been consistently top notch. The streamer bite has picked up recently as the fish have been feasting on abundant shad. Bass were hurling up 4-6 inch shad as we were reeling them in. Olive has been a good color for me, from smaller 2-3 inch flies up to bigger 6 inch ones. Both intermediate and floating lines have been working for streamer fishing as the fish seem keyed in on the top third of the water column. They may be eating baitfish and crawfish patterns off the bottom as well but I haven't had to try recently!
The topwater bite is still good as well as some big fish are more than willing to smash poppers and sliders and divers. Olive and chartreuse have both been working up top. Smaller topwater like Old Mr. Wigglies and damsel and dragon fly imitations have also been putting fish in the boat.
The lower ends of the CT's major tributaries like the Millers, Deerfield or Westfield also offer good smallie fishing and are a bit more accessible to the wading angler.
Largemouth fishing on area ponds has been great as well. I got out with Jay Aylward of the Handmade Angler (who also guides for the shop) and our friend Justin Costa recently for an evening into night session on a local bass pond. We had steady action on fish up to close to four pounds on streamers and poppers. The weather is still mild and this is just an unbeatable way to spend an evening, but it won't last too much longer! Those same topwater flies have been effective, especially in the late afternoons and evenings. The streamer bite has been good on smaller 2 to 4 inch streamers. White, black and olive have been good colors for the bucketmouths.
There is probably only a few weeks left for topwater action and maybe another month of solid subsurface bite on these fish, so I highly recommend getting out there while the getting is good. If you are interested in fishing for bass but have questions, please stop by the shop. We all love the warmwater stuff and are happy to answer any questions we can and help you get set up to target these terrific fish.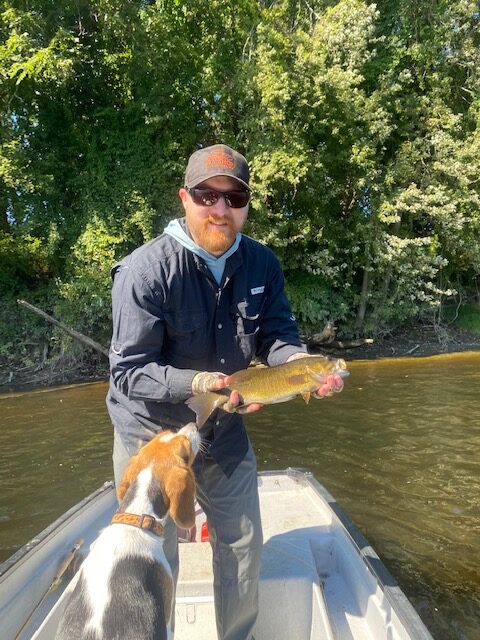 Trout fishing remains steady and pretty damn good as well. Bigger patterns like Chubby Chernobyls and Stimulators have been getting fish to the surface in what have remained relatively high flows on area rivers. Other terrestrials like ants and beetles are also effective this time of year. We are slo starting to see our fall hatches of Cahills. I've seen them from size 12 to 16. Usuals are a good imitation of this bug and ride nicely in the surface film. There are also some Tricos kicking around and smatterings of BWOs and caddis. These next several weeks can provide some of the best dry fly fishing of the year. I have also seen some big October caddis on my screen door at home so they are on the rivers too! I find I do better subsurface with these.
We are offering two new classes in October. On Thursday, October 14, starting at 4 pm, FFI-certified casting instructor Jim Dowd will lead an advanced casting clinic on improving distance and accuracy, focusing on mastering the double haul and the saltwater quick cast. On Saturday, Oct. 16 and Sunday, Oct. 17, we will be offering a co-ed version of our highly successful introduction to fly fishing retreat. Modeled on our women's only retreats in May and July, this clinic open to all has two components. On Saturday, Cynthia Harkness of Fearless Fly Fishing leads the introductory session covering all that you will need to know to get going in fly fishing, from the jargon to trout behavior to knots to the fundamentals of casting a fly rod. On Sunday we take to the water on a half-day float with our professional guides where you can put all you've learned to work on the trout of the Deerfield River! There is limited space in both so sign up soon by contacting [email protected] or calling the shop.
The streamer bite should continue to ramp up as the fall progresses. These high flows are conducive to fishing the meat. Brown trout get especially aggressive as they gear up for their spawning season in late October/November so now is the time to get after some of those big wild Deerfield River browns. We have a great selection of streamers at the shop, including some hand-tied by Rich Strolis (with more Strolis flies coming soon!).
One of the challenges of trout fishing this year has been getting on the river. Much higher than average flows have made it tough to wade the Deerfield. But, with all these dams, there is usually a spot to fish. Stop in and we can help you decipher the volatile flow changes and hopefully give you some ideas of where to fish. Freestones like the Westfield and North Rivers have been fishing very well. These will spike quickly after a rain but will also recede to very fishable levels quickly. The Millers is an exception to this as it can take awhile to get back down. It is currently high but fishable. This river can fish very well in the fall with some big hatches.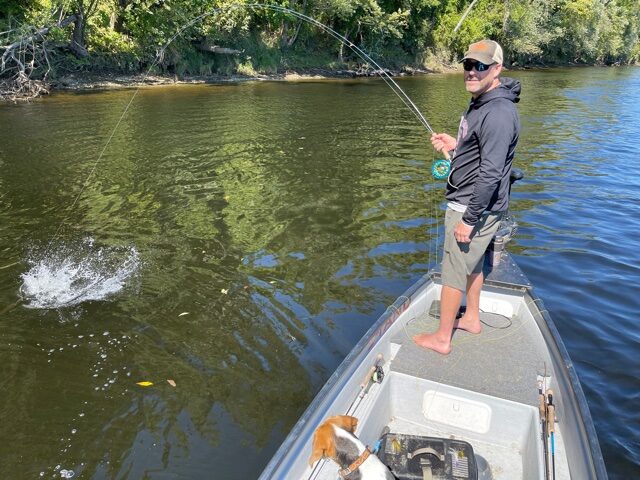 The Swift River is our most consistent river as its flows and temperatures fluctuate very little. Terrestrials are working here. At other times, small midges (22-26 or even smaller) are often the answer, and small pheasant tails (18-22) and midge nymphs like Zebra midges (20-24) are also effective.
Guided trips and lessons available. Call us at 413-397-3665 or email [email protected]
Dries: Chubby Chernobyls 6-10, Bank Beetle 10-14, Flying Ants 14-20, CDC Slate Drake 10-12, Parachute Hare's Ear 12-16, Parachute March Brown 12-14, Midges, Parachute Adams 10 to 14; Parachute Mahogany Dun 16-18; Rusty Spinners 12-16, Elk Hair Caddis tan and Olive 14 to 18, Sedgehammer 14-16, Snowshoe caddis
Nymphs: Pat's Rubber Legs, Golden or Black Terminator Stone 8-12, eggs, hares' ears in natural and black 10-14, Pheasant Tail Nymphs 12-18, Frenchies 12-16, Tan/Olive Mops, Squirmies, Natural/Olive Caddis Pupae/Larvae 12-16, Red/Copper Johns 12-16, Sexy Walt 12-16, Gilled Nymph 10-14, Zug Bug 10 to 12.
Streamers: Woolly Buggers Olive/Black 6-10, White/Olive Sculpzilla 8,Bank Robber 2, Ice Picks, Heisenberg Baby Bow/Cowboy/White 6, Sculpin Bunny, Black/Brown Rubber Bugger 4, Black, white and olive Zonkers.
Water Flows for Fife Brook Dam can be found here
Water release schedule for the next day is posted after 5pm. Check again before you head to the river. Minimum Flow 130 CFS (Cubic Feet/Second). Ideal for wading and Dry Fly Action. Normal Release 800-1,000 CFS
Dam release for the #2 Dam in Buckland can be found here
For Miller's River in Erving here
For Miller's River Bear's Den area here
For East Branch of the Westfield here