River Report July 30, 2021
What a month it's been! From drought conditions at the end of June to the wettest July on record. Makes for challenging fishing no doubt!
Wading the Deerfield has been difficult pretty much all this month, and, in fact, the water has often been too high to float it safely and effectively as well. When we have been able to get out, say when the flow from Fife Dam dips under 1500 cfs (please note: these higher flows are only safely floated by experienced boaters and waded by experienced waders), the fishing has been very good. Wading at that level is tough but possible. You need to choose your spots wisely and not expect to get out very far into the flow. Fish can be found close to the banks anyways in these conditions trying to escape the bigger flows.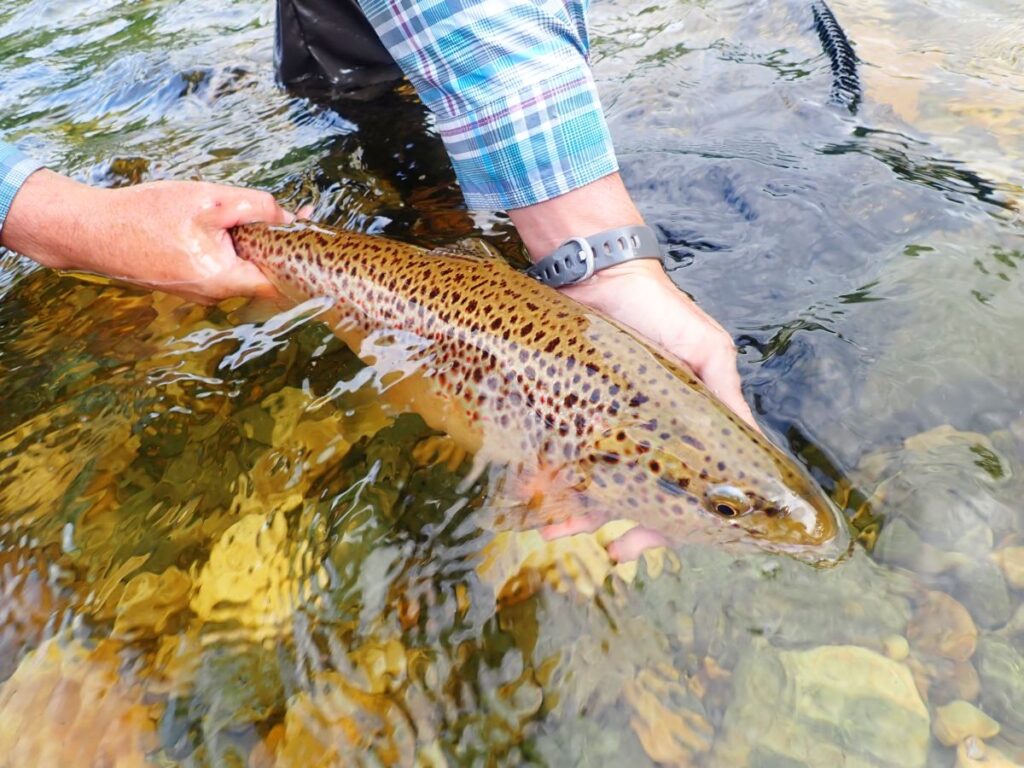 While July has been tough for us trout anglers, it has been great for the fish. The higher flows offer safety from overhead predators (including us humans!), abundant food and much cooler than normal water temperatures–especially compared to the last few years at this time of year. It has also severely decreased the pressure on these fish that can get quite wily by this time of year. This should all add up to a banner August and early fall. I expect that when (if?) the flows get back down closer to normal levels the fishing is going to be excellent– and just in time for hopper season!
While the Deerfield may remain tough to wade consistently for the next couple weeks, area freestones like the Westfield and North will come down to wadeable levels much quicker. All this water has these rivers at temperatures that are still well within a trout's comfort zone. Do keep an eye on water temps though if you plan on releasing your fish. As they approach 70 degrees, a released trout's chance of survival diminishes significantly.
If you can get out, look for Isonychia hatching as well as various caddis. Terrestrials will be a very good bet into September–ants, beetles and hoppers should all take their fair share of opportunistic fish. I put a Chubby Chernobyl with a size 14 pheasant tail dropped off its hook bend on my five weight and leave it on there until mid-September. Other attractor patterns like Humpies and Royal Wulffs are also very effective. Our Bank Beetle pattern is killer as are larger ant patterns. As August wears on I will start looking for smaller flying ants swarming–when this happens the fishing can be unreal. I like to have cinnamon and black ants in sizes 14 to 20 because the trout can get very fussy on these delicious morsels.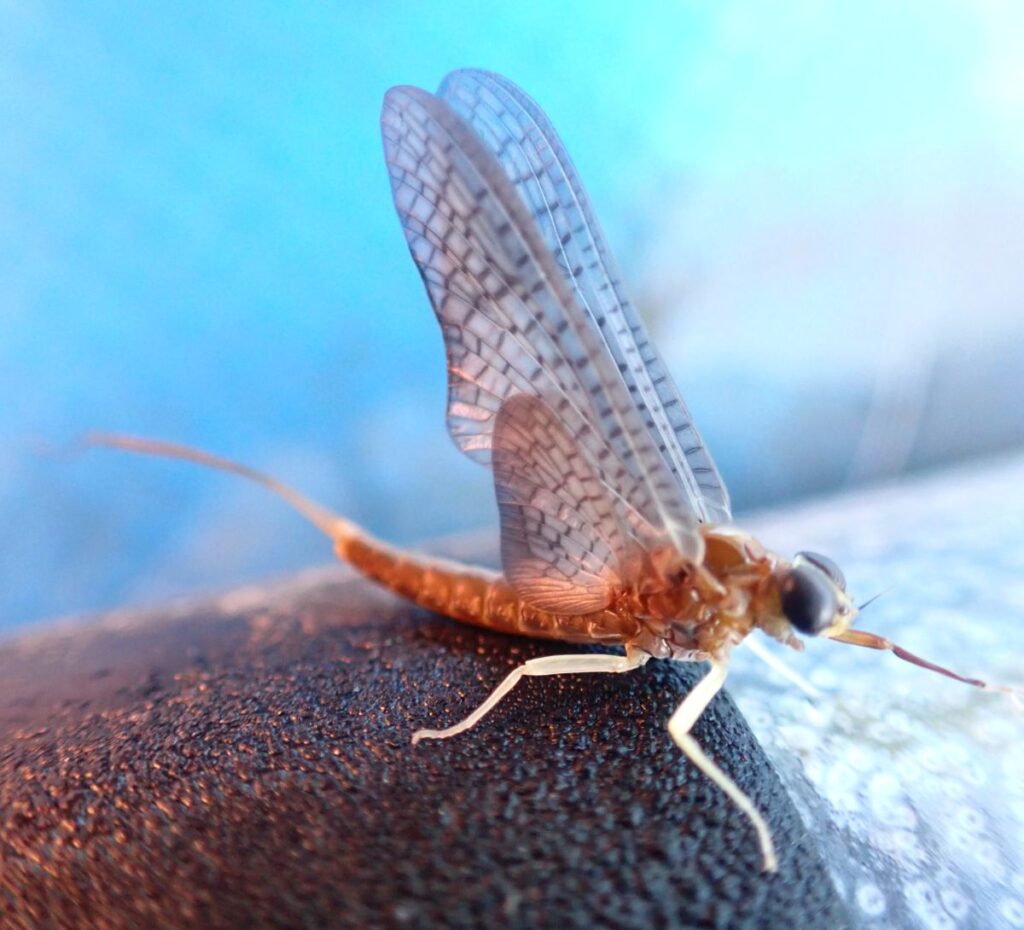 For straight up nymphing, I like a bigger stonefly, like a beadhead Pat's Rubber Leg, with a smaller mayfly or caddis pattern dropped off of it. It's probably a good idea to have some smaller pheasant tail, BWO or midge nymphs as well. And definitely don't forget about the Isos–Zug Bugs or Gilled Nymphs work well for these nymphs in sizes 10-14.
The Swift River has generally been fishing well. The sulphurs are hatching on the Swift as the sun begins to go down. Size 18 seems to be the ticket on this hatch here. At other times, small midges (22-26 or even smaller) are often the answer, and small pheasant tails (18-22) and midge nymphs like Zebra midges (20-24) are also effective. Smaller terrestrials should start working better and better.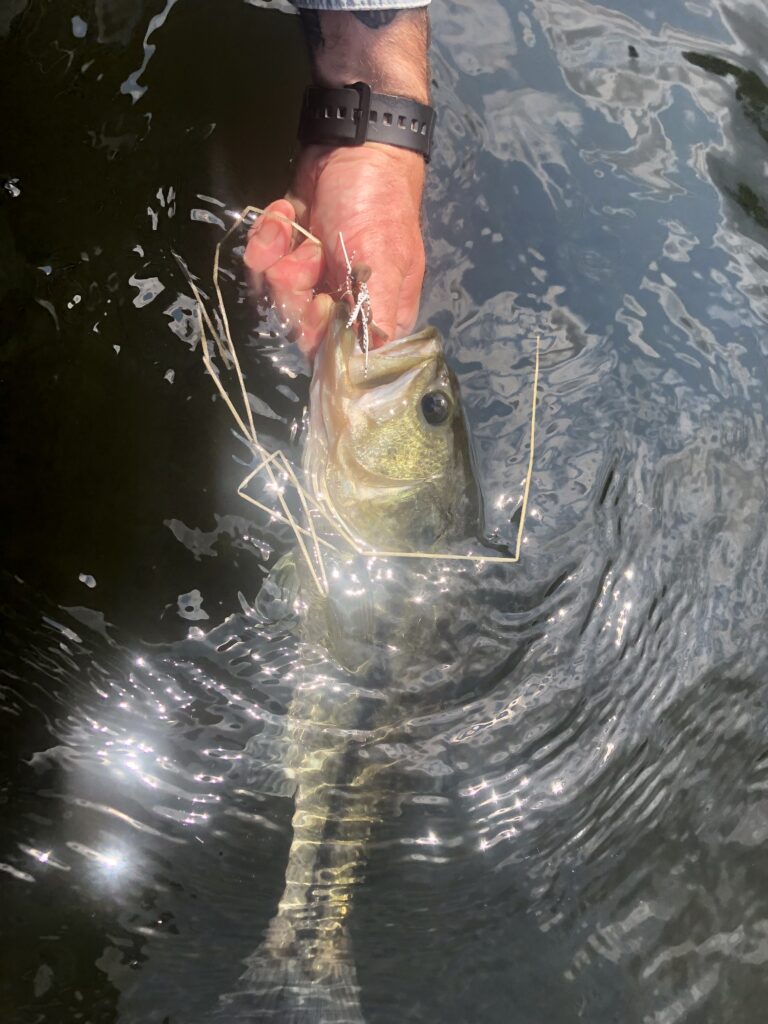 While the smallie fishing on our rivers has been a bit tough with the higher flows, the largemouth bite can be nothing short of fantastic at times. I particularly like fishing topwater flies in the evenings and into darkness and watching these voracious predators absolutely demolish them. I have had some days though where decent sized fish would take topwater all day long, from frog poppers to Wigglies imitating dragonflies. If you can't get them on top, fishing a slider on an intermediate line can be great sport. As the rivers drop, the smallie fishing should really light up.
Guided trips and lessons available. Call us at 413-397-3665 or email [email protected]
Dries: Chubby Chernobyls 6-10, Bank Beetle 10-14, Ants, CDC Slate Drake 10-12, Parachute Hare's Ear 12-16, Parachute March Brown 12-14, Midges, Parachute Adams 10 to 14; Parachute Mahogany Dun 16-18; Rusty Spinners 12-16, Elk Hair Caddis tan and Olive 14 to 18, Sedgehammer 14-16, Snowshoe caddis
Nymphs: Pat's Rubber Legs,  Golden or Black Terminator Stone 8-12, eggs, hares' ears in natural and black 10-14, Pheasant Tail Nymphs 12-18, Frenchies 12-16, Tan/Olive Mops, Squirmies, Natural/Olive Caddis Pupae/Larvae 12-16, Red/Copper Johns 12-16, Sexy Walt 12-16, Gilled Nymph 10-14, Zug Bug 10 to 12.
Streamers: Woolly Buggers Olive/Black 6-10, White/Olive Sculpzilla 8,Bank Robber 2, Ice Picks, Heisenberg Baby Bow/Cowboy/White 6, Sculpin Bunny, Black/Brown Rubber Bugger 4, Black, white and olive Zonkers.
Water Flows for Fife Brook Dam can be found here
Water release schedule for the next day is posted after 5pm. Check again before you head to the river. Minimum Flow 130 CFS (Cubic Feet/Second). Ideal for wading and Dry Fly Action. Normal Release 800-1,000 CFS
Dam release for the #2 Dam in Buckland can be found here
For Miller's River in Erving here
For Miller's River Bear's Den area here
For East Branch of the Westfield here