River Report 6/17/22
The fishing in western Mass right now continues to be excellent.
Though we could use some rain, relatively cool temperatures in general have kept our trout streams in good shape. Bugs are popping really well right now. March Browns and Isonychias are scattered throughout the day. We are still seeing decent Light Cahill hatches in both the mornings and evenings. Caddis can be found throughout the day as well, along with Yellow Sallies. On cooler, cloudier days small BWOs can be the ticket. And I have come across some nice fish feeding on big stonefly dries in the late evenings.
But the marquee hatch right now are the Sulphurs. These often hatch right at dark and the hatch is often concurrent with what can at times be spectacular amounts of spinners. I expect this will continue for another month or more with different species of Sulphur that tend to get smaller as we get into summer. I like to have a good assortment of Sulphurs on hand as the fish can get fussy on these at times: Sparkle Duns in 14 through 18, parachutes in 14 through 18 and I have found the often overlooked spinner–a rusty spinner in 14 to 18 will do the trick–will keep you into fish until well past the point when it is too dark to see your fly anymore.
Outside of the late evenings, I like to have a some bigger March Browns as well as some brown Klinkhammers in size 12 or so. Bigger Slate Drakes are also good to have in addition to some various Cahill patterns in 12 and 14. A decent array of caddis in sizes 12 to 18 is good to have. I like to have some high riding caddis like Elk Hairs as well as some that sit a bit lower in the film like Sedgehammers, all in tan and olive. Now that I am seeing more and more Stoneflies I like to prospect with bigger Stimulators, PMXs and Chubby Chernobyls in the evenings but also throughout the day. Terrestrials are starting to work and will become more and more a staple of the trout's diet as we roll into summer. Beetles and ants are probably bets right now with hoppers not too far off.
Nymphing is often the best bet for consistent action during the day. I like to have a bigger stone like a Pat's Rubber leg paired with a smaller mayfly or caddis imitation: Pheasant tails, hare's ears, caddis larvae. Dry dropper is also really effective right now with a Stimulator or a Humpy trailed with a size 14 soft hackle pheasant tail my go-to.
Our fly bins are loaded right now so stop by to load up for all this great fishing.
The Westfield River has been fishing well and is at an ok level but could really use a shot of rain. The Millers is at decent levels but is getting a bit warm–I'd stick to early mornings and late evenings here. The Swift has been at abnormally high levels all spring but is now at more typical levels. I would expect the sulphur hatch to start heating up here. Like everything at the Swift, the Sulphurs tend to run smaller so 18s and 20s are more the norm here.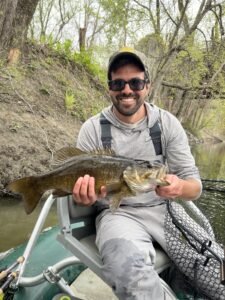 Smallmouth and largemouth bass are off the spawn and on the feed again. The Connecticut River and the lower reaches of the Millers, Westfield and Deerfield River are fishing really well for smallies right now with topwater flies working great in the mornings and evenings. During the height of day you often have to get a little deep with baitfish imitations or on the bottom with crawfish or hellgrammite flies. The largemouth fishing on area ponds is starting to heat up also with topwater in the mornings and evenings and subsurface during the day. These wild fish are incredibly fun to fish for with a fly rod. Most of us here at the shop really love focusing on them this time of year. If you are interested in a deep immersion into bass fishing with a fly rod, we have our first ever bass camp on Aug 12 to 14 where we will have lessons on casting, fly selection, fishing techniques and three separate guided trips for both small mouth and largemouth bass–accommodations and several meals are included. See the link below for more details.
UPCOMING EVENTS:
Women's Fly Fishing Retreat July 22-23
If you want to increase your learning curve about spring fishing, our guides have availability and have been having some great days out there recently. Give the shop a call to find out more and book a trip: 413-397-3665 or email [email protected].
[fusion_widget_area name="avada-blog-sidebar" title_size="" title_color="" hue="" saturation="" lightness="" alpha="" background_color="" padding_top="" padding_right="" padding_bottom="" padding_left="" hide_on_mobile="small-visibility,medium-visibility,large-visibility" class="" id="" /]